A family business that has been providing property maintenance and landscape services as well as creating lasting relationships with our clients since 1994.
"Your home is your castle" and for many, also your largest investment. At Key West Landscaping and Maintenance we take great pride in your property and like others to see this as well. Our client's properties range in size from smaller city lots to multi-acre residential and commercial properties. Using modern, well maintained equipment, we can give your property the clean manicured look that you have known to want and expect.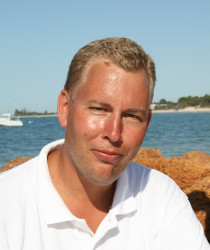 Brian Vandenbos , Owner and operator
Service Area
We provide our services to the greater Hamilton area. Our maintenance routes cover an area including Hamilton, Binbrook, Burlington, Ancaster,Dundas and everywhere in between.
Our History
My name is Brian Vandenbos, co-owner along with my wife Nancy of Key West Landscaping and Maintenance. We started out on our own under the name Brian's Lawn and Garden Maintenance in 1993. In 1996 we acquired Key West Landscaping and Maintenance. Many of our clients have been with us since the company's inception. As a family run business we take a "Down to Earth" approach and have been happily serving our clients with year round service in the greater Hamilton and Burlington areas who return to us year after year.
What our customers are saying…
Dan & Linda Corrigall, Ancaster

Hi Brian. I wanted to thank you and your crew for doing such a good job of keeping our driveway clean thru this past winter. We run a small business from our home (music lessons), which means the clients need easy access to & from the studio, and be able to use the driveway. You kept your word and always had our driveway clean in time for opening. Thanks again and we look forward to working with you next winter. Best.....Dan & Linda Corrigall
Keith and Jackie, Ancaster

Brian Vandenbos has been our go to guy for lawn service since day 1 as the owner of Key West Landscaping. Brian and his team deliver a service that is reliable, timely and efficient. With their equipment they are able to finish the job quickly and they do a good job of cleaning up the clippings afterwards. Key West Landscaping also look after our fall clean up to our complete satisfaction. I will continue to recommend Key West to friends and neighbours.

Keith & Jackie